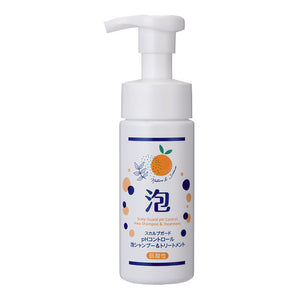 This exceptional conditioning shampoo & Treatment was developed based on feedback from nurses working in the medical field!

This product harnesses the power of Foam to cleanse your scalp softly and balance the PH naturally, it is gentle for those who undergo chemotherapy treatment and those who have sensitive scalp. Without saying, this product is also suitable for kids.

Chemotherapy and radiation can wreak havoc on patient's skin, causing hair loss and sensitive scalp, making it more difficult to care for their scalp. Therefore, using an extremely gentle conditioning shampoo is very important.

Our Scalp Guard pH Control Bubble Shampoo & Treatment is guaranteed paraben-free and silicon-free. Instead, we add natural essential oil with orange scent for hair hydration and scalp nourishment. By washing with a generous amount of foam, you can easily and gently cleanse impurities and scalp, while minimizing the irritation and moisturizing your hair.
【Features】
pH-balanced
Free of added paraben, silicone, fragrances and colorants
Natural essential oil for hair hydration and scalp nourishment
Made in Japan