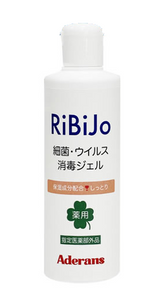 When it comes to protection from germs, you want something not only effective against germs, but also skin-friendly.
Our new product – RiBiJo serves more than just as a hand sanitizing gel for daily personal use. It is also perfectly designed for the professional, especially for those who are working in the salon services where they overuse their hands to wash customers' hair many times a day, which causes severe skin problems, such as rough hands.
Therefore, Aderans is here to solve their problems. We have developed RiBiJo – a 2in1 hand sanitizer and moisturizer with rinse-free, non sticky and quick-drying formulas. It contains Benzalkonium Chloride (0.05w/v%)  which is officially recognized as an effective ingredient against virus and Glycerin which leaves your hands feeling moisturized.
Made in Japan