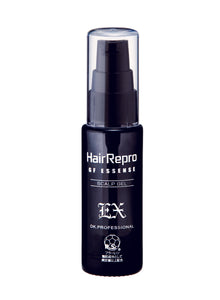 HairRepro GF Essence G is a fullerene-infused luxurious Scalp Care Serum, exclusively developed by Aderans.
It is suitable for Men and Women and applied to the areas where you concern most.
Our star ingredient here is patented Fullerene Nanomaterials which won the Nobel Prize in Chemistry and has excellent antioxidant propterties 172 times greater than vitamin C. After Fullerene works on its antioxidant magic, a blend of placental extract and botanical extracts like rosemary, burdock(gobo) moisturize and condition your scalp while stimulating hair follicle growth and improving hair shedding.

【Features of Fullerene】
potentiate hair growth
restore hair growth in the areas of hair loss
promote the formation of new hair follicles
can penetrate deep into the hair follicle, allowing it to heal the hair
improve scalp condition and change the hair growing cycle
It is exclusive for hair and scalp, which is recommended to use together with Beaustage Vegas Premium for deeply taking care of your entire scalp health.

【How to use】
Use it after shampooing and drying your hair.
It comes in easy-to-use gel form allows you apply the appropriate amount of essence directly to the area you concern most (1-2 pushes), then massaging the scalp with your fingertips.
Highly recommended to use it for at least six months, in order to see any benefit.

【Other Infos】
0% of fragrance and colorants
Ideal for Men and Women

More info about Fullerene, please click here.
Made in Japan