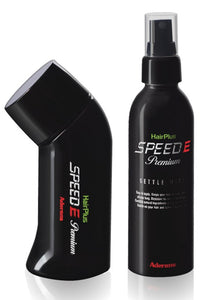 HairPlus Speed E Premium Volumizing Hair Powder and Finishing Mist Hairspray 
Aderans HairPlus SPEED E Premium is a Volume-Boosting Powder which can be sprinkled wherever you care most, and its feature of long and narrow fibers "3D Sensor Hair" will adhere to the hair with static electricity, which helps get comparatively fuller and voluminous look instantly. 

Used along with ≪HairPlus Speed E Premium Mist Hairspray≫ after applying Volumizing Hair Powder (Color: Dark Brown), which can make it even much harder to be removed by Rain, Wind or Sweat!

Most importantly, it can be washed away by shampoo or soap with the greatest of ease!

Made in Japan
Features
user-friendly handy design
quick results
adjustable powder output
visible and traceable remaining quantity (on the side of bottle)

 

long-lasting hold and natural look

easily removed by shampoo or soap 

available in 2 different colors: Black and Dark Brown
Volume: 30g (Powder), 150ml (HairSpray)
Product Origin: JAPAN 

How to use
Before use, please cover your clothes with a towel so that the powder will not get your clothes dirty.

 

Sprinkle it on the dry hair/hair roots and the areas where you care most. 

Post the application of this volume-boosting powder, lightly tapping it with your fingers to blend powder with hair without using any comb and brush.

Finally spray the Settle Mist onto it from approx. 15cm away. (Don't touch your hair until it gets dry)
 Video
Another demo video for Water-Resistant ! 
Tip
In the morning: using our HairPlus Speed E to boost your hair volume instantly. 
At night: caring your scalp for new hair to grow with our Hair Growth Serum.