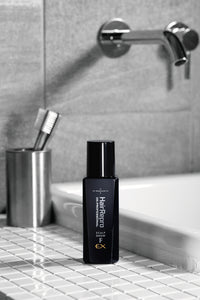 HairRepro MEN's Hair Growth Serum & Treatment F EX V5 is essentially designed to improve Hair Loss & Hair Thinning while stimulating New Hair Growth with anti-dandruff and anti-itch effect.
Details
A healthy scalp is the key to healthy hair! With our active ingredients (Diphenhydramine HCI, Hinokitiol), it helps to alleviate skin irritation, itchy and dandruff in order to create a healthy environment for hair's natural growth.
Hops Extract combined with Eriobotrya Japonica Leaf Extract and Averrhoa Carambola Leaf Extract support to increase dermal papilla cells and activate hair follicles for full and healthy-looking hair.
Our star ingredient - Stephania Cepharantha Root Extract works to improve blood circulation in the scalp for new hair to grow.
There is no room for cutting corners. Continued use helps support healthy hair growth, improve hair thinning while rebuilding healthier, stronger, and denser hair.
High Salon-Quality Hair Growth Agent
Formulated with 4 kinds of active ingredients to maintain healthy scalp condition
13 kinds of plant-derived ingredients work to curb symptom of aging and proliferate hair papilla cell
No harmful chemicals, it can be used twice daily
Volume: 120ml
Product Origin: JAPAN
PARABEN FREE | SILICONE FREE | FRAGRANCE FREE | COLORANTS FREE | MINERAL OIL FREE | PHENOXYETHANOL FREE
Who it is for
For those with gradual hair loss & thinning 
For those who want to boost new hair regrowth
For those with dandruff & itchy scalp & symptom of aging 
Active Ingredients
Stephania Cepharantha Root Extract– improves blood circulation while boosting hair growth
Celery Stem Extract and Rutin – helps in hair growth and improving the texture of hair with anti-aging effect
Hops Extract and Licorice Leaf Extract – helps proliferate hair papilla cell 
Saccharomyces/Barley Seed Ferment Filtrate Extract – prevents gray hair due to stress and help generate melanin
How to use
Use it after shampooing and drying your hair. Divide hair into small sections and apply small amounts with fingertips over the entire scalp. After applying the serum, gently massage the scalp. No rinsing needed.
Use twice a day (in the morning and at night) is recommended. 
Made in Japan